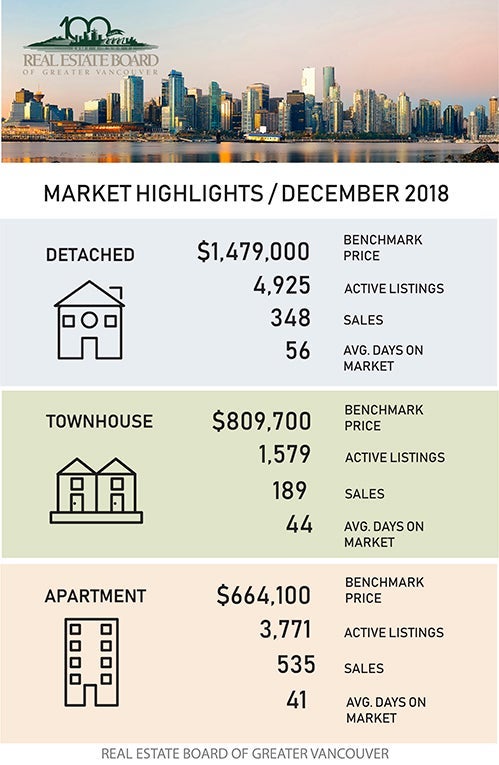 Overview of the year for the housing market includes
: 
Home sales the lowest annual total since 2000
Last year's sales total was 25% below the regions 10-year sales average
There was almost the same amount of listings in 2018 (53,614) and 2017 (54,655) but with a lot less sales 
There has been a 31.6% decrease in sales of detached, attached and apartments in 2018 comparied to 2017. 
Phil Moore, REBGV president had this to say: "This past year has been a transition period for the Metro Vancouver housing market away from the sellers' market conditions we experienced in previous years. High home prices, rising interest rates and new mortgage requirements and taxes all contributed to the market conditions we saw in 2018."
residential home sales in the region totalled 1,072 in December 2018, a 46.8% decrease from December 2017, and a 33.3% decrease from November 2018.

Last month's sales were 43.3 per cent below the 10-year December sales average.
There were 1,407 detached, attached and apartment homes newly listed for sale in Metro Vancouver in December 2018.
The total number of homes currently listed for sale on the MLS® system in Metro Vancouver is 10,275, a 47.7 per cent increase compared to December 2017 (6,958) and a 16.5 per cent decrease compared to November 2018 (12,307).